Emily alongside her 'Christmas Wonderland' co-star Ryan Rottman dropped by the set of Hallmark's Home & Family Friday to chat about their Hallmark Christmas movie which airs this Saturday on Hallmark Movies and Mysteries. You can check out photos from her visit in the gallery and watch her interview below.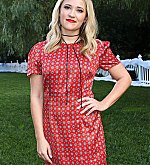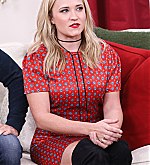 After five seasons of Young & Hungry, Emily Osment looks back fondly on her experience playing the loveable, mischievous, but always good intentioned, Gabi Diamond. The show, inspired by San Francisco food blogger Gabi Moskowitz, took audiences through the ever-changing romance between chef Gabi Diamond (Emily Osment) and her rich tech mogul boss Josh Kaminski (Jonathan Sadowski). Along for the ride were Gabi's roommate and bestie Sofia Rodriguez (Aimee Carrero), Josh's housekeeper Yolanda (Kym Whitley) and publicist Elliot Park (Rex Lee).
The series finale sees Josh take the gang for a getaway on his new yacht. It's there that Gabi is given the opportunity of a lifetime by the yacht's chef (Alex Guarnaschelli) but Josh has his own proposal in mind. Before saying goodbye (maybe just for now if we get that movie!) to the beloved Freeform comedy, Osment takes time out for an exit interview.
What was going through your mind when you got the news initially about the show ending?
Emily Osment: It was a hard one to stomach. It has been over a year since we shot the episode, and we all assumed we'd come back. It was hard to keep my mouth shut about what actually was going on in the series finale that we were doing. Then when we found out we weren't coming back, I also had to keep that under lock. So, it was difficult to keep it private for so long. We really wanted to go back. We really wanted to end it and have a nice closing for the show. And you might still get that chance because there have been talks of a movie. There is a script floating around, so I think it would be a really great way to wrap everything up. We want to give that to the fans. Right now, the ending is very much a cliffhanger. I think we can all assume what Josh says, but I would still like to see the chapter close.
Tell me what it was to be on this show and have the role of Gabi Diamond to sink into. You essentially have grown up in front of the camera going all the way back to Disney Channel's Hannah Montana. However, in Young & Hungry you're a twentysomething dealing with these young adult issues.
This show is nothing like Hannah Montana. It's a four-camera sitcom. It's a comedy, but the issues we discuss, and the type of comedy is very different. I think I've been lucky to characters on Hannah Montana and on Young & Hungry that were my own age. A lot of times that is not the case. I usually play younger than I am. On this show, I get to play my own age, which helps when you show real issues that maybe I was going through in my own life. I drew a couple of parallels for sure when we were working. It was a really wonderful experience. It was a lesson in taking care of yourself because we worked very hard. There was a lot of patience I acquired during this. I loved it so much, and I loved everybody that I worked with. It was a long run, and we had a really good time. I can go back and re-watch the episodes if I miss them. It's all streaming on Netflix now.
There seemed to be some strong camaraderie on set. The cast seemed to have a lot of fun together.
Definitely. We all got along really well. We all came from sort of a comedic place and background. So, it wasn't hard to get us all in a room and make it all work. It was fun. It was such a great group. We're all going to be family forever. Continue reading